Helping

you meet your
challenges head on
Never has there been more pressure on the education sector to make savings, to manage decreasing budgets, and yet continue to provide excellent results.
Integrated packages with one provider can offer considerable value for money, not to mention freeing up your valuable time so that you can focus on your students and your teams.
As a trusted partner working hand in hand with our clients throughout the UK, Norse can offer you single service or bespoke packages that deliver flexible solutions to meet your needs and your budget.
Our personal approach includes locally based and dedicated management support, to ensure our services continue to be of the high quality you would expect.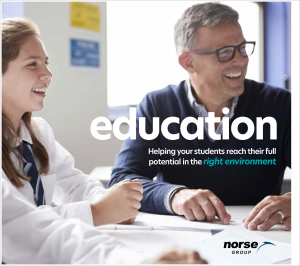 "…These are tough times for the public sector and we were looking
for cost efficiencies and less administrative work by joining our
services together. We wanted to see innovation… Norse came across
as a business which could offer us savings by making the services
more efficient…"
Schools Procurement and Estates Officer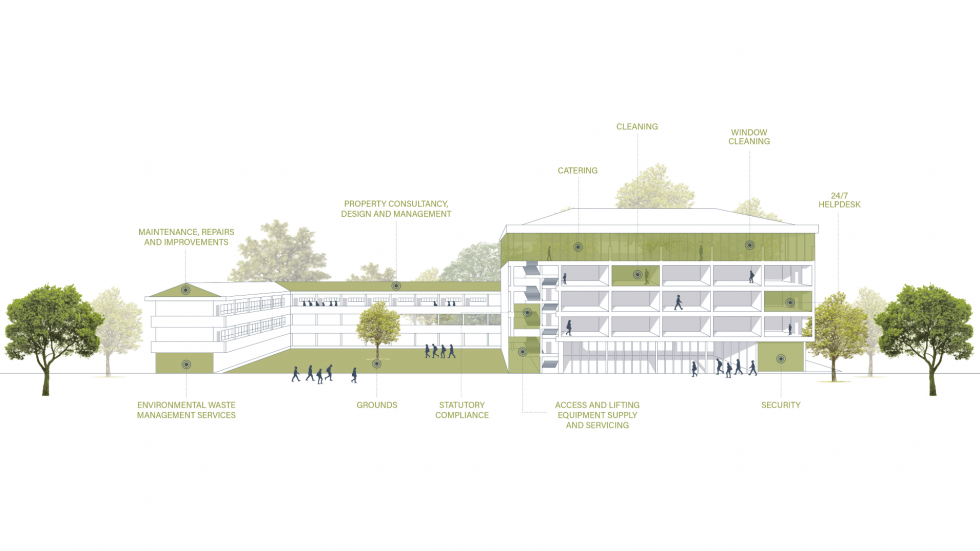 A
one-stop-shop

for all your needs
Feeding minds

Our menus are engaging, seasonal and nutritionally balanced to ensure your students are fuelled for learning. An NHS dietitian supports the development of healthy, diverse meals with at least 75% of all produce cooked fresh, on site each day. You also benefit from a local account manager and mobile teams.

Spic and span

Cleanliness in schools has never been more important and our high standards of cleaning and hygiene help you to provide a safe learning environment for your students. We offer a full range of services including deep and specialist cleaning, with an 'in-house' team supported by additional mobile support staff.

Running smoothly

Our 24 / 7 facilities management helpdesk offers you an around-the-clock service. Local teams respond quickly and efficiently should any issues arise and, planned or unexpected, all works are carried out to the highest quality and safety standards, ensuring you have an environment to be proud of.

Perfect environments

Our property professionals create high quality, innovative spaces that inspire and motivate your students to learn. We deal with projects of all sizes, from individual refurbishments and alterations to designing new schools.

The great outdoors

We know that your outside spaces are vital for the health and wellbeing of students and staff alike. Our experienced grounds teams ensure your premises are maintained to the highest standards, creating tidy and inspiring places for students and staff to enjoy the great outdoors.

Safe and sound

From security services, to waste management and recycling; statutory compliance and building needs' assessments, there's not much that we can't support you with. Drawing on a wide range of expertise and experience we support hundreds of education clients with all the hidden essentials.
Eastern Education Show
terms and conditions
All entries must be received by Norse Group no later than midnight (11:59pm) on Thursday 23 June 2022
All submissions will be entered into the prize draw and a winner will be chosen at random on Friday 24 June 2022
Only one entry will be accepted per education setting and prizes will only be awarded to education settings
The winner will receive either 1 prize of £1,000 or 1 prize of a year-long subscription for a mobile security camera* or 1 prize of a window clean
The winner will also be announced on the Norse Group Twitter account
The winner can direct any queries or concerns to communications@norsegroup.co.uk
By entering this competition, you are agreeing to Norse Group Ltd contacting you in the future about our services, with no obligation to purchase these services
Your data will NOT be shared with any third-party organisations and it will be stored securely and appropriately in line with GDPR best practice
You can withdraw your data and permissions for us to contact you at any time by emailing communications@norsegroup.co.uk
You can read the Norse Group Privacy Policy here
*Norse Security will supply two Reconeyze cameras for a period of 12 months "hire period"
The CCTV equipment remains the property of Norse Security during the hire period
You agree to Norse Security monitoring CCTV on your premises
Norse Security will welcome your representatives to our ARC Alarm receiving Centre to provide a demonstration of these CCTV kits in action
Norse Security is granted access to your premises to change the camera batteries when required to do so by arranging an appointment with your schools representative
These cameras can be erected at a location chosen by your school. Some examples of areas to be monitored are bike sheds, fuel storage, car parks, entrances to the site, and roof access areas.
Your cameras will be managed by exemption meaning our expert team will programme the cameras to only capture images when required
All CCTV images are viewed only by SIA licensed operatives
All CCTV images will be handled in accordance with GDPR
Norse Security can offer a call-out response to any activations should you require this service
Get in touch
Fill out our enquiry form here or alternatively, get in contact directly with a member of our team below.
Charene Botha

Business Development Manager Charene.Botha@norsegroup.co.uk | 07562 307576

Steven Atkey

Business Development Manager Steven.Atkey@norsegroup.co.uk | 07514 982422
Case Studies
Providing a bespoke cleaning and caretaking solution tailored to the school's requirements
" They have communicated plans with the Headteachers at every stage and minimised the disruption to students as much as possible " Chris Everard, CFO Wensum Trust
" It was so lovely to see their faces and talk to them, though they all wanted to talk at once! " Leah Claxton, Cook Manager, St Martha's Primary School