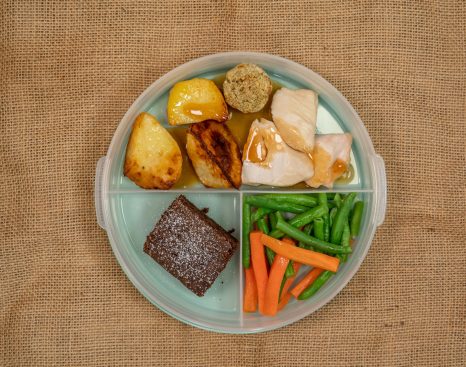 School lunch service during Covid has created its fair share of challenges. One of which being, how to deliver and serve hot meals to children in classroom bubbles.
Without knowing timescales for restrictions, Norse Catering initially used 100% recycled cardboard boxes. While they were effective, the boxes created a significant amount of additional waste and extra cost. This also contradicted the important work Norse has done in recent years with the reduction of single-use packaging.
With plates and traditional service methods not an option for all sites, the catering team trialled reusable containers and products in the search for a longer-term solution. The best product by far was a three-part plastic container, much like a bento-style box, with a lid so they can be stacked when transported to the classrooms while retaining the heat of the food.
Very quickly the new boxes were put into circulation, providing schools a new and safe way to provide hot meals in classroom bubbles. Not only that but the new boxes are re-useable, so waste has been cut dramatically, allowing us to maintain our sustainability commitments.
I am really pleased we have found a more sustainable 'lunch box' for our schools. These convenient containers can be used time and time again so a much more economical and environmentally friendly solution for classroom bubbles – plus school children are really enjoying using them!
Andrew Lipscomb, Operations Director, Norse Catering