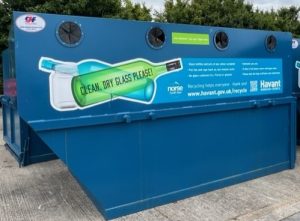 Innovative, new glass recycling banks, which are much larger and employ sensor technology, have been introduced by Norse South East and Havant Borough Council.
The 10,700-litre, enclosed skips are almost 10 times bigger than previous glass collection bins and bring numerous benefits to resident and operatives, explains Rob Guy, Operations Director of Norse South East.
"Our previous glass recycling bins had a 1,100L capacity, while these new ones can accommodate 10,700L," he said.
"We are now able to provide our residents with much more space for recycling their used glass. In addition, the new skips are safer for our operatives to handle and are less likely to overflow."
The new skips, positioned in locations, such as supermarkets and car parks, that are easily accessible to members of the public, are all fitted with sensors that measure their fill rate.
Operatives, who monitor the sensors remotely, are alerted when they start to reach capacity, reducing the need for unnecessary checks and resulting in less overflowing during holiday periods.
"We will experience cost savings with these new skips because of the collection vehicles used," Rob added.
"They are safer to manage, and local residents are able to recycle more – these new bins work well for everyone."
Norse South East is a partnership between Norse Commercial Services and Havant Borough Council.
It provides facilities management services, including grounds maintenance, trade waste and street scene services to the public and private sector clients across the south east of England.
Councillor Lulu Bowerman, Cabinet lead for Environment and Commercial Contracts at Havant Borough Council, said: "I am very pleased for the introduction of these new larger glass banks that will allow residents to recycle even more glass.
"The new technology combined with the increase in size will prevent unsightly and overflowing areas in the borough. It will also reduce the number of trips made to empty the banks, reducing our carbon footprint – in line with the council's corporate strategy.
"The new method of collection, by a skip carrying vehicle, will also reduce the risks to collection crews and the concerning sound levels identified with smashing glass when emptied."