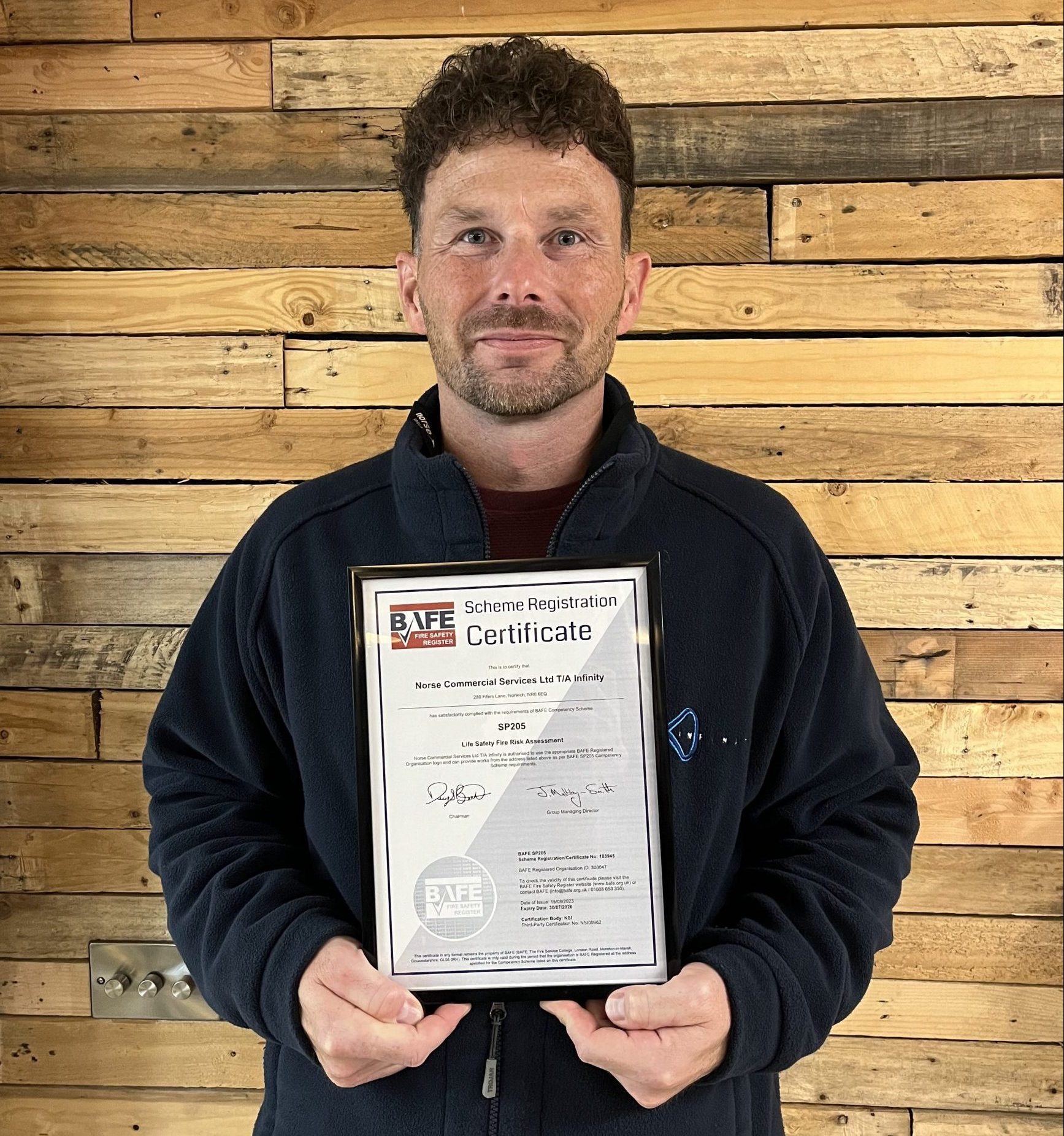 We are pleased to announce that Infinity, part of the Norse Group, is accredited by BAFE SP205 Life Safety Risk Assessment.
Infinity can offer suitable and sufficient fire risk assessments in line with the Regulatory Reform Fire Safety Order 2005.
The BAFE SP205 Life Safety Fire Risk Assessment was established in mid-2012 for companies acting as life safety fire risk assessment providers for other businesses. The scheme was created to provide assurance to companies commissioning the fire risk assessments and confidence regarding the relevance and quality of services.
The benefit of using a third-party accredited organisation is that our clients can feel confident that our fire risk assessors are competent specialists who will produce a detailed report of your premises, ensuring the person responsible for the premises is compliant with their legal obligations.
Fire Risk Assessor Owen Jones, who is responsible for overseeing Infinity's fire safety provision, eagerly anticipates the opportunities presented by the new accreditation.
"Achieving BAFE accreditation is an important milestone for our organisation, it provides our clients and stakeholders with assurances that our services are 3rd party accredited with regular external auditing completed by National Security Inspectorate (NSI), ensuring we maintain the highest of standards in the fire safety sector."
Owen is an Associate member of the Institute of Fire Safety Managers (IFSM), BAFE Membership Registration Number 4638, with six years of experience in the fire safety sector. He has completed level 4 diploma training with the Fire Protection Association (FPA), Fire Safety Management in Residential Premises, and BB100 Design for Fire Safety in Schools. In addition, Owen is also a competent BRE Fire Door Inspector and Passive Fire Compartmentation Surveyor.
Find out more about Infinity's fire services at norseinfinity.co.uk.