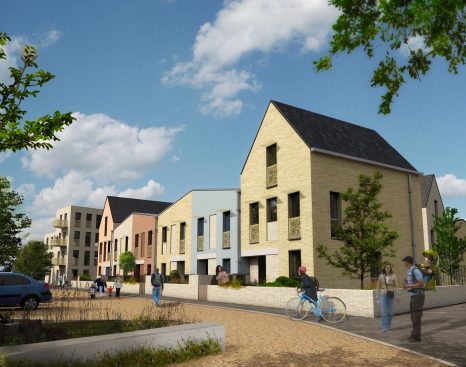 Client: Norwich Regeneration Ltd
Location: Norwich
Value: £26m
Date: First phase completed October 2019
Services: Sustainability, Housing development, Quantity surveying, Planning consultancy, Mechanical & electrical engineering, Architectural design, Structural engineering, Project management, Landscape architecture
This large development of 172 new homes on the edge of the city, 112 of which are Passivhaus, demonstrates how stakeholder engagement has helped us create a new community from scratch. The new, integrated, convivial public realm comprises private, semi-public and public spaces and is integrated with a dementia and extra care home, all designed by our interdisciplinary design consultancy, Hamson Barron Smith (HBS).
On the client side, HBS worked closely with the selling agents, making adjustments to the tenure mix as necessary and ensuring that the properties presented themselves to the market in the best way possible.
Working for the contractor, HBS was in full collaboration with the construction team, making adjustments to the designs to meet the needs of the appointed contractor and addressing the requirements of value engineering when relevant.