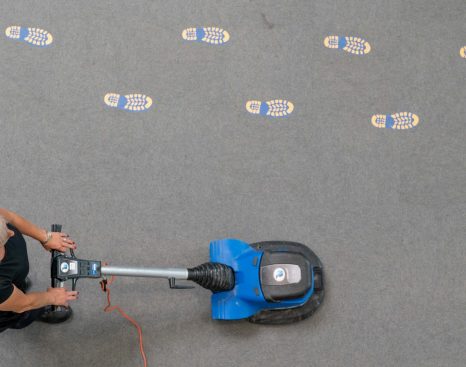 "Since employing Norse, they have managed all staff issues very well, dealing with absences and required cover."
Our objective
Oakway Academy needed a clean school which met high standard hygiene requirements. They were not happy with their incumbent contractor due to poor communication and too much time being spent by the Academy's management staff managing cleaning issues.
Services provided to Oakway Academy :
Day to day cleaning
Periodic Cleaning
Window cleaning
Regular client feedback meetings
Specialist hygiene cleans to SEND facilities
Norse were quick to respond to the requirements of Oakway Academy listening to their specific school cleaning requirements and provided a value for money proposal that was accepted.
A proud history
Pupils have attended a school on the Oakway Academy site for nearly 50 years, there have been many changes over that time but the school has always been at the heart of the community; with generations of families attending.
Oakway Academy is a large primary school catering for up to 630 learners in 21 classes with extensive provision for pastoral care and children with additional educational needs.
The school has spectacular grounds with extensive outdoor learning opportunities and various facilities for leaners with special needs.
The importance of great cleaning services
High quality, reliable cleaning services are valued by staff and benefit pupils – ensuring the school and their surroundings are visually and hygienically clean. However, a good cleaning service must also be cost-effective and flexible enough to adapt to a clients ever-changing needs. Due to the nature of activities and users of the school hygiene is of upmost importance preventing lost time due to sickness of both staff and children.
Testament to our delivery of a high quality cleaning services to Oakway Academy is the recent appointment to provide cleaning at Sir Christopher Hatton Academy. This is the largest school in the Hatton Academy Trust of which Oakway is a part of. This evidences the Hatton Academy trusts confidence in Norse to provide the level of service that they required.
A strong working relationship
A great relationship has been nurtured with the schools representative Kate Pettifer and our area manager. This has been achieved by an honest and open approach when dealing with client requests and managing staff in terms of arranging cover for absences.
"Since employing Norse they have managed all staff issues very well, dealing with absences and required cover. Employing Norse for our cleaning has saved me a lot of time, removing the need for me to manage the cleaning team"

Kate Pettifer, Oakway Academy
Clearer pricing
Norse provided Oakway Academy with a proposal clearly outlining costs for the term of the contract to allow the school to budget and plan for the future. Norse ensured that all scenarios were considered to provide a fixed price that would not incur extra charges.
Faster response to cleaning requests
With Norse's vast presence locally we could guarantee Oakway Academy a first class service with fast responses to any cleaning requests and backed this up with our regular client meetings and staffing structure.
Flexible services that support Oakway Academy's needs
Norse have been able to provide a flexible service to Oakway Academy due to our strong relationship. Providing a flexible workforce to work with the school for ad-hoc cleans and being flexible to work around events such as parents evenings or training days.
Unrivalled Cleansing experience
When it comes to working with schools, Norse delivers an unrivalled level of expertise and experience. Evidenced by our portfolio of over 1,400 education clients across the UK. To learn more about our flexible, cost-effective and quality cleaning services UK wide, get in touch today.
Contact us