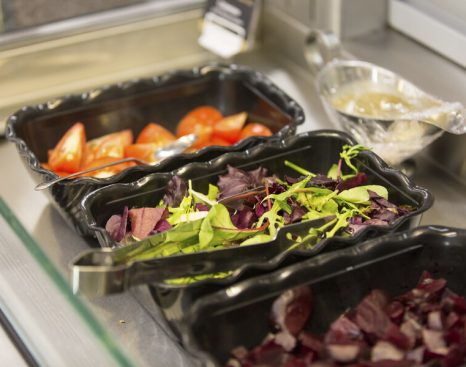 The partnership 'ticks' all the boxes when it comes to providing staff and students of all ages a varied, healthy and well balanced meal.
Ivybridge Academy accommodates approximately 2,500 students plus staff. The previous in-house school catering service was operating at a considerable loss and when the catering contract was transferred to Devon Norse in 2011, controls were swiftly brought in to help reduce and manage costs
Working with the Kitchen Manager, Devon Norse investigated the food costs to ensure the produce being bought in for the menu was locally sourced and that the quantities being delivered matched the number of learners and staff they needed to cater for. There was a reduction in waste and soon after, the financial controls began to improve substantially.
A cashless finger print technology system was also introduced to the school, which ensured the till was never short and additional service points were brought in to speed up the flow of service during break times.
The weekly annual revenue has increased by 25%. The financial deficit was turned into providing a small catering surplus income in just one year, and in two years, the surplus returned to the school increased by a staggering 100%. This now means that the school benefits from a considerable income generated from the catering service.
"The partnership that the Ivybridge Academy Trust now has with Devon Norse has proved very successful and 'ticks' all the boxes when it comes to providing staff and students of all ages a varied, healthy and well balanced meal, to cover all tastes and diets. Notwithstanding providing meals to staff and students, the team successfully deliver 'high end' catering for functions including a number of Prince's Trust weekend seminars, major college events attended by teaching staff from other educational establishments within the South West, OFSTED and Challenge Partnership Inspectors to name but a few. The feedback from these events have always been very positive and upbeat!"

Finance Manager, Ivybridge Academy