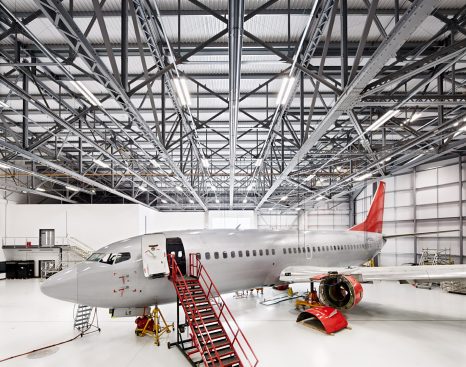 Customer: Norse Development Company Ltd
Location: Norwich, Norfolk
Value: £12m
Completed: April 2017
Services: Mechanical & electrical engineering, Architecture, Structural engineering
Designed by our specialist interdisciplinary design consultancy Hamson Barron Smith, the design principle was to deliver a building refurbishment which respects the local context of the Airport Industrial Estate, yet captures the excitement of advanced engineering led by pioneering twenty-first century technologies.
The scheme incorporates 20 classrooms, five engineering workshops and an Emulation Zone containing an A320 aircraft and a helicopter. In this custom designed environment, trainees will have unparalleled facilities for learning.
A need for the new facility emerged from the well-documented worldwide skills deficit across a range of aviation activities around the UK. The project is a collaboration between a range of local authority stakeholders, local education providers, and KLM UK Engineering.
The Academy will initially focus on aviation engineering but will gradually extend its remit to include ground crew operations, air traffic control, cabin/crew training, operations, planning and pilot training.
The NPS Group graphic design arm, TEN Creative, were also involved in this project, creating the visual identity and interior design of the on-site café named the 'Sky Lounge'. The logo uses clean fonts combined with aircraft shapes, whilst engaging imagery has been used in the café to draw customers in.