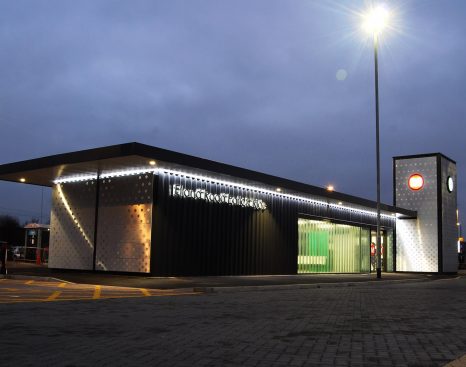 Customer: Leeds City Council Highways Department
Location: Leeds
Value: £309,000
Completed: December 2016
Services: Quantity surveying, Mechanical & electrical engineering, Architecture, Structural engineering, Landscape architecture
For this flagship project for Leeds City Council, NPS was asked to design a new park and ride ticket office and waiting area for fifty passengers, with WC facilities and staff area. The building also needed to allow for expansion should the expected success of the park and ride concept materialise.
The budget and repeatable concept were the main challenges and, from this, emerged the use of recycled shipping containers. These reduced the cost of the primary structure and provided an arrangement of blocks suitable to the function required. New blocks can be easily added in the future as and when required by the client.
The use of recycled shipping containers evolved into off site, volumetric, modular construction, built in Hull and brought to site in sections on the back of a lorry.