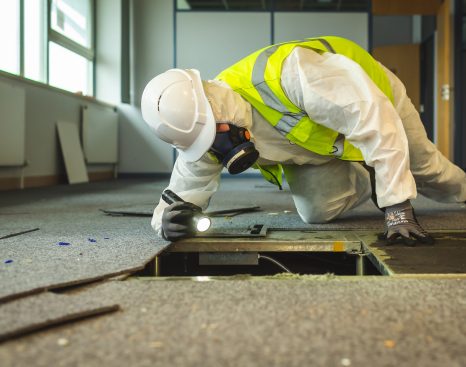 Infinity has been providing asbestos consultancy and surveying services to North Yorkshire Police's property portfolio since 2017; covering approx. 60 buildings from office, training and dog handling facilities to remote traffic monitoring facilities, police housing and sensitive area buildings.
The team carried out a full gap analysis on data provided from previous management reports, as well as multiple refurbishment and project surveys from each site, which identified risk associated with asbestos regulations.
To guarantee the police force remained compliant with regulations and guidance, Infinity ensured surveys were conducted to a strict schedule and timescale, being mindful that some sites were live and in sensitive areas, and a detailed scope of works was provided to the survey team for each site along with relevant risk assessments.
To ensure the quality of its surveys, Infinity undertakes technical audits on all site personnel on a regular basis, in conjunction with the UKAS document RG8. Staff are also listed on a unique skills matrix to ensure the most appropriate team members are allocated to each task.
North Yorkshire Police can access live data reports, the asbestos registers and associated databases via our web-based client portal system – TEAMS – to ensure sites remain compliant. The data is monitored and reviewed on a monthly basis to ensure any required actions are planned and completed and that the portfolio is updated accordingly.
Due to the increased efficiencies in working methods and practices, the Force has achieved cost savings of around 10-15% for all project work, along with a positive environmental impact with reduced travel time and emissions. This had been achieved using a collaborative approach with contractors and design teams, with the client portal system; TEAMS, being identified as a significant contributor to these efficiencies, including reducing the need for site visits and eliminating the need for distributing hard copy documentation.