Pictured above, Mike Burlace (who leads NPS South West's Asset Management and Surveying team) dodges the waves of the incoming tide to complete the topographic survey
Devon is blessed with some of the country's finest coastline, including at Sidmouth, where a new community project is underway to build an access ramp to a beloved seafront.
Chit Rocks is one of the most popular spots in Sidmouth, attracting thousands of visitors every year, however even the nimblest beach lovers can struggle with the pebbled beach and steep steps to gain access to the sand and dip their toes in the sea.
Working together with the Sidmouth Coastal Community Hub, NPS South West is helping to change that, with a new beach ramp set to provide better access for families and those with mobility problems.
Following successful local fundraising efforts, the concept quickly gathered momentum in the community, with support also coming through from Devon County Council, one of our joint venture partners.
By directly funding and providing surveying and design services, the NPS team is doing its bit to ensure the project gets off the ground, in readiness for the bumper summer season.
Among the team from NPS South West leading on the design of the beach ramp is Ryan Chapman, Senior Architectural Technician, with Mike Burlace from the Asset Management and Surveying team also helping to complete a topographic survey.
NPS South West Operations Director, Al Robinson, said: "NPS South West is delighted to support this local initiative and be part of an exciting project to provide a permanent ramp directly onto Chit Rocks sands.
"This will help provide access for many people who currently struggle or are unable to access and enjoy this lovely beach, and we're sure it will be a popular addition to the seafront for many years to come for locals and visitors alike."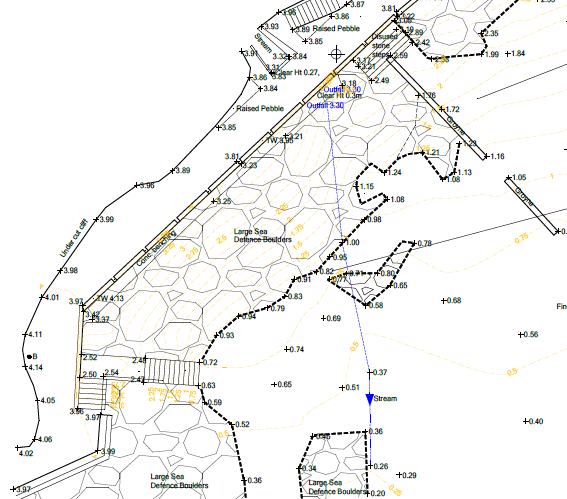 Survey drawing of the beach ramp, prepared by Mike Burlace