As part of Hedgehog Awareness Week (2-8 May), staff from across Norse who work in the great outdoors are doing their bit to ensure the safety of our spiny pals and other nesting wildlife.
Every year, many hedgehogs are seriously injured by cutting machines such as strimmers and mowers, and populations have fallen between 30 to 50% over the past 20 years. This has placed them on the UK red list as 'vulnerable to extinction'.
Zatouichi (pictured), is one of the many hedgehogs who suffer serious injuries each year and was found and cared for by local volunteers after experiencing permanent eye damage – likely caused by the use of pesticides and herbicides.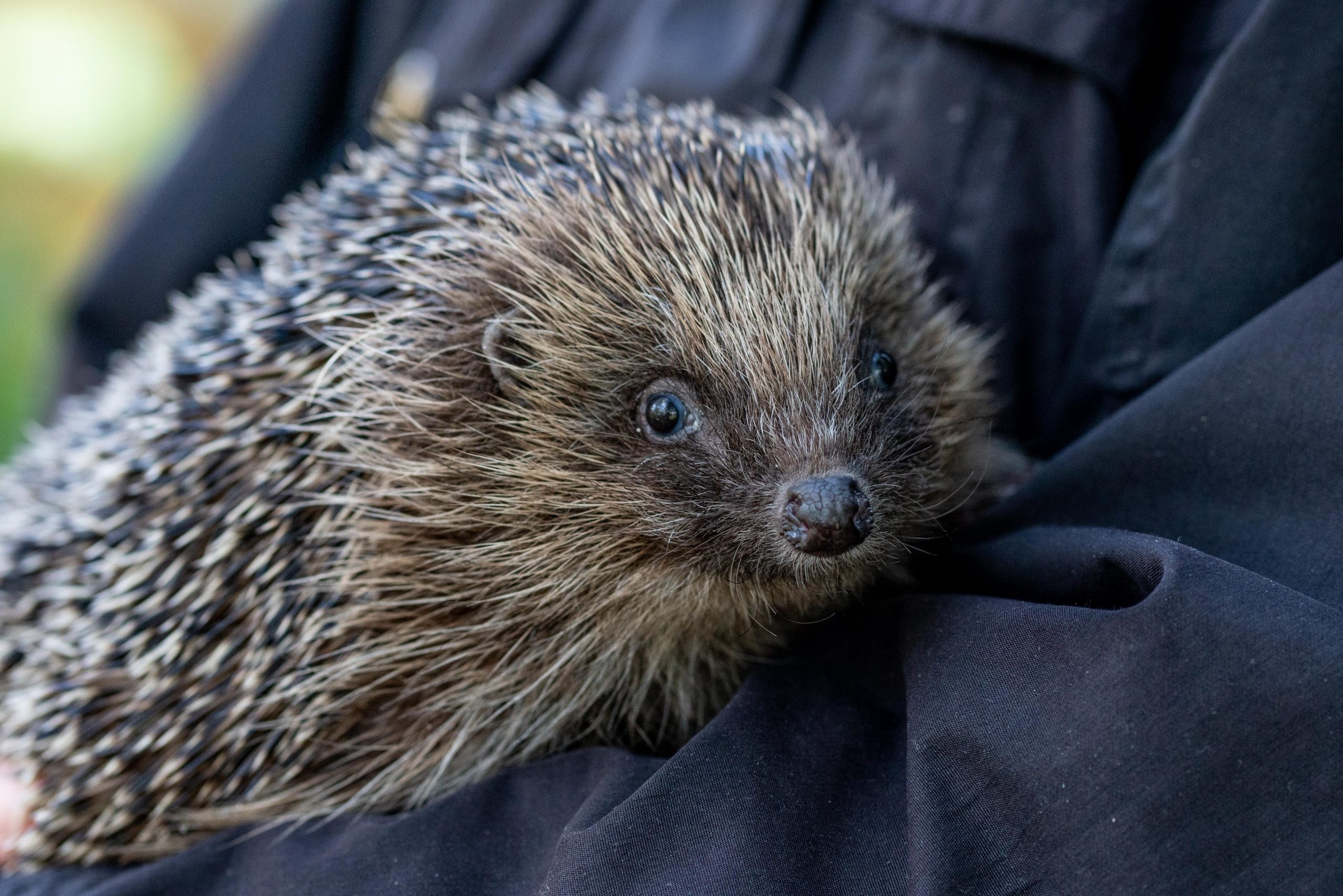 But with greater awareness and some simple steps, a lot of these injuries could be avoided. And that's why Norse Highways and Total Facilities Management (TFM) teams, among others, are doing their bit to support the awareness week, which is organised by the British Hedgehog Preservation Society (BHPS).
As they go about their work mowing, cutting hedgerows and trimming road verges our crews have committed to always first look for wildlife nesting sites, including those of hedgehogs, and to do their utmost not to disturb or accidentally harm local wildlife.
As an environmentally conscious organisation, Norse is working with the BHPS to label hundreds of pieces of equipment with reminders for staff to check for hedgehogs before switching on.
Norse TFM Operations Manager, Irina Iordache, said: "Hedgehogs are among Britain's most loved creatures, and we're keen to ensure they continue to thrive in their natural habitats across the country.
"Our mowers, trimmers and strimmers cover thousands of miles every year helping to maintain some wonderful locations, and whenever we come across wildlife, we make every effort to ensure we have a minimal impact on their environment.
"But this week, and as we head into spring, is the perfect opportunity to remind our teams to always be on the look-out. And the stickers really do help keep it in people's minds, every time they pick up their kit."
British Hedgehog Preservation Society CEO, Fay Vass, said: "We're really delighted to have the support of the Norse Group in this way.
"It is so important that organisations take the time to consider the impact they can have on such wildlife and wildlife habitats. It's great that the Norse Group is not only doing its bit to avoid harming hedgehogs, but also helping us remind others to consider what they can do too. This kind of effort can make a difference.
"Raising awareness and the steps we can all take to help protect them whenever we're out and about, is vital in protecting our dwindling hedgehog population. It's up to us all of us to help to reverse this trend and to safeguard the future of this much-loved animal."
As well as Norse teams doing their utmost while at work to consider hedgehogs' safety, there are some simple steps people can take at home too which can make all the difference to Britain's only spiny mammal.
Avoid using pesticides and slug pellets in your garden. Not only can these harm hedgehogs, but also damage their food chain.
Make sure hedgehogs have easy access to your garden. Ensure boundary fences or walls have a 13cm x 13cm gap in the bottom to allow hedgehogs to pass through.
Take care on the roads, hedgehogs are nocturnal so are out at night.
Always look under undergrowth and garden hedges before strimming or mowing.
Sign up to be a Hedgehog Champion at www.hedgehogstreet.org – a project run by BHPS and its partners, the People's Trust for Endangered Species.