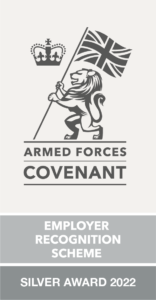 The Norse Group has successfully achieved the Defence Employer Recognition Scheme's Silver Award Certificate for its commitment to the Armed Forces Covenant.
The Defence Employer Recognition scheme encourages employers to support defence and inspire others to do the same, and its Bronze, Silver and Gold awards are given to employers that meet its criteria.
Norse signed the Armed Forces Covenant in 2021 and has continued to help those leaving the Armed Forces move towards new careers within the Group.
Roger Smith, Director of Safety, Health, Environment and Quality (SHEQ) and a former Warrant Officer Class 1 in the British Army, said: "This is a tremendous achievement for Norse, and I'm delighted that we have been upgraded to a silver award after achieving a bronze level earlier this year.
"Those who have served within the Armed Forces bring a special set of skills and qualities that can be utilised and developed within a civilian role. We are committed to supporting the wider Armed Forces community, and it's wonderful to see Norse recognised for the positive role we play. We've demonstrated our commitment by achieving silver, so we will be looking to progress to the gold level over the coming months."
The Norse Group employs around 10,000 people up and down the country, working across both public and commercial sectors.
More than 6,000 businesses and organisations across the UK have signed the Armed Forces Covenant.
If you are an armed forces veteran, reservist, or the spouse or partner of serving personnel and are interested in a role with Norse Group, please visit: www.norsegroup.co.uk/careers/