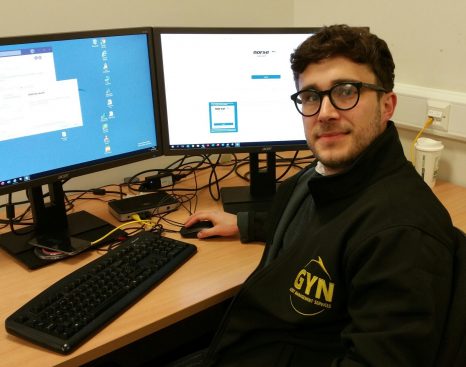 Apprenticeships are more than just training programmes – they're also the perfect stepping-stone to a successful and rewarding career.
With the benefits of on-the-job experience and hands-on learning, it's no surprise that completing an apprenticeship is the preferred pathway for many.
Lewis Williams joined the Norse Group as an HR Admin Apprentice in 2011, and has continued to progress within the organisation to become a Performance & Relationship Manager.
By completing two apprenticeship programmes with Norse, Lewis has been able to advance his professional development, gaining new skills and the confidence to succeed in his career.
Here, he reveals how the apprenticeship route was the best option for him, touching on the many benefits and opportunities it has opened.
Why did you choose to do an apprenticeship as your next step after full time education?
At the time of leaving college, university just wasn't for me. I studied IT at college but didn't want to take this further and therefore didn't want to go to university and study something I wouldn't put my all into.
I knew I wanted to work in an office environment and was very open minded about what industry/sector but lacked experience and knowledge. I went for an apprenticeship as I felt this was the best way to get my foot in the door, I could learn on the job whilst being paid and would have a new qualification at the end of it.
What were you doing before you started your apprenticeship with Norse?
I was fresh out of college after finishing a two-year IT course at City College and was working part time at a local supermarket.
How have apprenticeships supported you to progress?
Both apprenticeships have been a major factor in my development and career progression.
I completed a Business Administration Apprenticeship when I was in HR and it gave me such a solid foundation to working life and the workings of an organisation that I wouldn't have got from anywhere else.
The Team Leader / Supervisor apprenticeship that I completed more recently was very different to the first, not your typical college course. It involved working with other apprentices who were also Norse employees and from a wide range of services, including many I had never met before.
This course allowed me to fine tune my skills and gave me confidence to be a manager. Working with others from across Norse was extremely beneficial, as we all shared experiences that people could relate to and communicating regularly meant we could help and support each other.
What would you say have been the biggest benefits of developing through the apprenticeship route?
Being able to learn whilst being in full time employment. Everything I learned on the courses was relevant to my role and my development, they provide the tools and give you the confidence to succeed. When it came to the completion of coursework, I always had working / real life examples that I could use.
Another benefit is that the apprenticeship gave me the opportunity to secure a full-time job. By the time I had finished my first apprenticeship and was given a permanent role, some of my friends were still studying at university with another year left. I gained so much in that time whilst others hadn't even started their careers.
How did you juggle work and learning effectively?
During my first apprenticeship, the HR team, and especially my mentor, was extremely supportive and made sure I had enough time to complete tasks for my apprenticeship.
During the team leader course, I made Fridays my apprenticeship day and blocked it out in my diary.
Although I was still in work and could pick stuff up, I dedicated that day to getting things done and it worked well. I still attended meetings and worked to hit deadlines, but overall, that was my main day and a big part of me succeeding.
What advice would you give to someone considering an apprenticeship?
Go for it and put your all into it! An apprenticeship is a great opportunity, so give it everything you can and ask lots of questions. You learn so much from your peers, the business and from undertaking your role on a daily basis that you just wouldn't get from full time education.
Apprenticeships aren't just for trade type roles, there are so many out there and can really open doors for people.
What are your future career and development plans?
I would like to study again at some point in the near future. I have spoken to my manager about the potential of another apprenticeship, and we are reviewing all options to see what would be best.
I want to keep learning and developing within my current role and I'm always looking for opportunities to develop my career and enhance my skills.