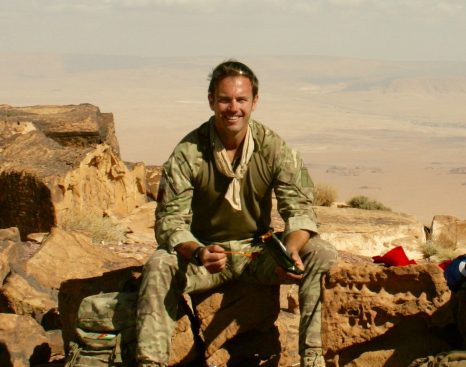 Al Robinson, Operations Director, NPS South West discusses how his British Army experience, and ongoing role as a Commanding Officer in the Army Reserve has stood him in good stead to meet challenges head on…
"Joining the Army was a childhood dream for me. There wasn't ever really any question that I would do anything else.
"I grew up in the shadow of the steel works on Teesside in the north east of England but wanted to follow in my father's and brother's footsteps. My brother was an instructor at the Royal Military Academy Sandhurst, having joined the British Army as a soldier in the early 1980s and he suggested I try for 'Officer entry'.
"In my final year of school, I applied to attend Welbeck – the Army's 6th Form College – and from there I went straight to Sandhurst to start my officer training, before being commissioned into the Royal Engineers.
"Over the course of 19 years' service in the regular Army, I served in a variety of roles; including as a Project Manager and Demolitions Officer, working in strategic plans and program managing overseas Defence Estates infrastructure upgrades.
"I also served with the Parachute Regiment and Commando Forces across the globe, and I'm a qualified Learning and Development professional having taught at the RAF College Cranwell as a leadership instructor.
"My services took me to Northern Ireland, Sierra Leone, Iraq and Afghanistan, and I have travelled extensively delivering military engineering consultancy.
"After 19 years of service in the Regular Army, I wanted to stay involved in construction, without taking a backwards step in my career. I had essentially been in the Army since I left school at 16, and at first, I found it difficult translating my experience into something that employers could relate to.
"I needn't have worried, as I successfully made the leap and joined NPS, which is part of the Norse Group.
"With the added option of continuing to serve as an Army Reservist at the same time as taking on the role with NPS, I quickly settled in with Norse and haven't looked back since.
"As Operations Director of NPS South West I primarily look after the Group's Joint Venture with Devon County Council, with 70 staff under my leadership working across Estates, Design and Maintenance and Minor Works.
"It's a fantastic team to be a part of and, with the company's support, the transition into civilian employment was relatively smooth, and I quickly bedded into the next phase of my career.
"You learn to adapt quickly in the Army, and often have to work with minimal direction and little or no budget. With that sort of background, you feel well-prepared for any eventuality.
"Whenever I've been confronted with new and different challenges in my role at NPS, I've often drawn upon the experience and skills I accumulated in the Army.
"The most relevant transferable skills to my role as an Operations Director are problem solving, strategic thinking, engineering consultancy and project/programme management. Military training focuses heavily on teamwork and I try to bring some of the methods used in the military into the workplace to develop a sense of belonging and cohesion.
"In addition to my day job, I'm proud to continue to serve in the Army Reserve, as the Commanding Officer of the Royal Monmouthshire Royal Engineers (Militia) – the Senior Reserve Unit in the British Army.
"It's really rewarding, and I still enjoy putting on a uniform and working with a diverse and committed bunch of people.
"So, while balancing civilian and military roles can prove challenging at times, with the flexibility and support offered by the Norse Group, it is perfectly possible.
"It helps that my line manager is also ex-military, and has always been incredibly supportive, and I'm really grateful for the Norse Group's continued support."