As organisations across the country continue to come to grips with a national shortage of drivers, we're helping to tackle the challenge head on, by upskilling our own staff to get behind the wheel for the first time and take the next step in their careers.
Currently, 10 bin operatives from our Waste Management Team at Norse South East, in Hampshire, are being put through their paces, taking part in extensive training to gain their Heavy Goods Vehicle (HGV) licences.
Chris Dillon works as a refuse loader within the team and is one of the crew members making the most of the development opportunities available, commencing his HGV training in July this year.
"The appealing part of obtaining an HGV licence is that it represents a fresh challenge for me and a new chapter in my working life," Chris said.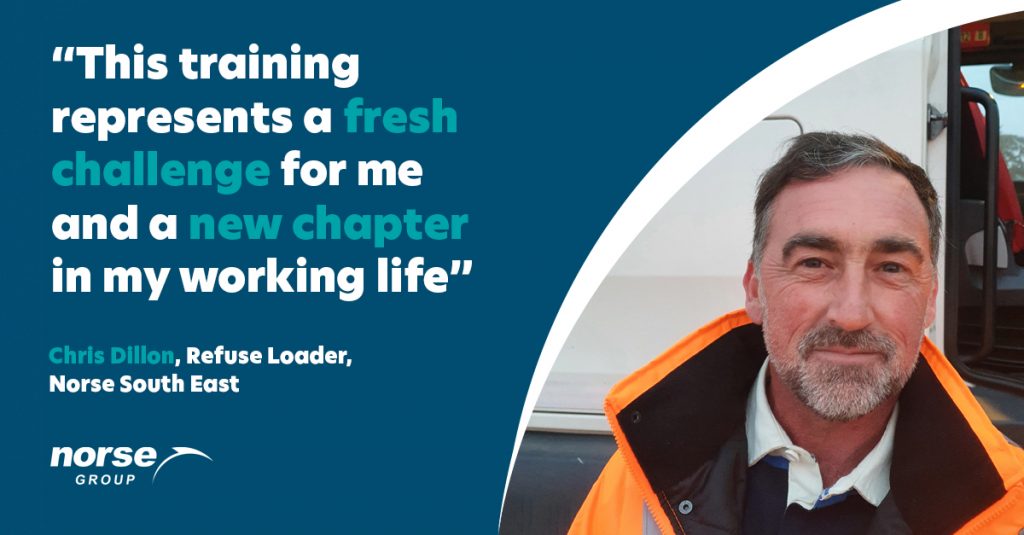 "I have been part of the team at Norse for around two years now and was encouraged by my colleagues and manager to gain this qualification to help with my career progression – transitioning from being a loader to a bin lorry driver.
"They have all been 100% behind me since day one in achieving this, with the company giving me the time and transport I needed to help gain my HGV licence."
Norse South East Transport Manager, Tony Wright, has been helping to oversee each driver's development, assisting individuals with clear progression pathways upon the completion of their training.
"We're always prepared to do whatever we can to support our staff and help them reach their potential, and it has been fantastic to see so many people put up their hand and make the most of the training opportunities available to them," Tony said.
"The process of obtaining an HGV licence can take several months, with some of our cohort who started in May now nearing the completion of their courses.
"And with the current nationwide demand for drivers being so high, we're delighted to be able to upskill talented and committed people in-house, to further bolster our team.
"We would also like to thank our partners at Havant Borough Council and East Hampshire District Council, for their additional support with this."
After successfully passing his practical test, Chris is now ready to hit the road and is relishing the prospect of joining our fleet of lorry drivers.
"It would be great to be able to have my own round with my own team," he said.
"But, for now, I just can't wait to get started and be out on the open road."