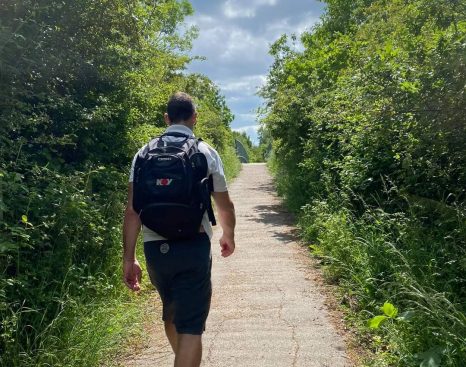 For Norse Group Auditor, Ben Polskidelve, family connections with the Royal Air Force run deep.
Following in the footsteps of his father and late uncle, Ben previously served in the RAF as an Air Cadet and Reservist, and is now setting upon a new challenge to raise funds for veterans needing support.
Coinciding with the 81st anniversary of the Battle of Britain on the 10 July, Ben will be embarking on a 24-hour fundraising walk for 'Walking With The Wounded' – a charity supporting those who have been injured or their mental health affected while serving in the British Armed Forces, and their families.
Starting at Cromer, he is planning to weave his way across the North Norfolk coast, before heading towards Great Massingham in the west of the county, covering close to 60 miles.
"I'm really looking forward to the challenge ahead and have been inspired to complete this walk in tribute to the extraordinary endurance shown by active and ex-service personnel," said Ben, who is based at Norse HQ, in Norwich.
"It's particularly fitting for me to complete this challenge on the anniversary of the Battle of Britain, and I will draw great inspiration from the efforts of the RAF all those years ago as I walk on through the day and night."
Having already studied and planned the route ahead, Ben is well prepared, and is taking extra precautions to ensure his feet stand up to the rigorous physical demands they'll be placed under.
To ensure he stays as injury free as possible, he will be taking regular breaks every few hours, including soaking his feet in cold water to keep them fresh.
"Fitness wise, most people can walk for 24 hours. But the real kicker is when your feet start breaking down, so foot management will be absolutely key," Ben said.
"Funnily enough, foot management is also something I remember being taught during my time in the RAF Reserves, as we ran about fields during training."
Coming from a military background, Ben understands the toll that service life can have on armed forces personnel. And by raising funds for Walking With The Wounded, he hopes to do his bit to help support those in need.
"I personally know people who have been wounded during their service, and the mental health struggles that some people face after leaving the Forces.
"These people want to work and get on and be useful as they transition to civilian life, but might not be in a position where they're able to do so without the help of others.
"But thanks to the support of charities like Walking With The Wounded, ex-services personnel can receive practical help and support, getting back into work and sustaining their independence."
With support from friends and family on the day, Ben will be far from alone as he trudges along on his trek.
And for the final leg of his journey, he will be joined by his father, Ken Delve – a renowned author specialising in aviation and military history, who also served in the RAF as a Navigator for 20 years.
"It will be great to have my dad by my side as I head into the home straight," Ben said.
"If there's one thing I'd like to prove by completing this walk, it's that we're all capable of doing a lot more than we think we can.
"The human body and mind are capable of serious endurance and the military is rife with these examples, not least for those who were involved in the Battle of Britain, displaying extraordinary mental toughness and stamina under incredibly difficult circumstances.
"In my own small way, if I can complete this 24-hour walk, with little preparation and training, then it goes to show that we can all push ourselves beyond our perceived limitations."
Anyone wishing to donate to Ben's fundraising efforts for Walking With The Wounded, can do so at: https://uk.virginmoneygiving.com/fundraiser-display/showROFundraiserPage?userUrl=BenDelve&pageUrl=1