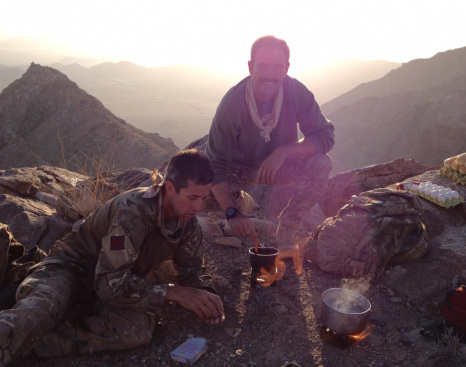 In addition to his day job with the Norse Group, Al Robinson has been leading fellow Army Reservists throughout the pandemic. Al offers an insight into how they used their skills to construct a Covid vaccination centre in Jersey.
For an Army Reservist, no two days are ever the same – a sentiment that Operations Director of NPS Devon, Al Robinson, can identify with.
As the Commanding Officer of the Royal Monmouthshire Royal Engineers (Militia), and a former regular British Army officer, he spends his spare time leading fellow Reservists, who have been key to the nation's Covid-19 response.
"There is a recognised role for the military – particularly the Army Reserve – to support UK communities, with operations and resilience.
"And so many people have volunteered during this time whether that be as vaccinators or delivering food to people in need, in addition to their full-time 'day jobs'," he said.
"Speed of response has been key to all of our efforts during the pandemic, and with the 'can do' attitude that Army Reserves bring, we pride ourselves on being able to overcome obstacles and deliver to deadline."
As Al can attest, balancing your civilian and military roles can prove challenging at times – his Reservist work takes up most of his evenings and weekends – but with the flexibility and support offered by the Norse Group, it is perfectly possible.
"The reality is with a supportive employer you can manage both commitments, so for anyone considering joining the Reserves, don't let it hold you back."
With the ability to roll out and turn around complex projects at speed, Al and the four squadrons he oversees have been trusted in delivering vital infrastructure and support, including providing ambulance drivers for NHS Wales.
But, perhaps one of his squadrons' most notable feats was the construction of a vaccination centre in Jersey in just 12 days with the finished site having the capacity to house the delivery of up to 1,500 vaccinations a day.
Jersey sits in the Bay of St Malo some 14 miles (or 22 km) from the French coast and 85 miles (137 km) south of the English coast, which can present its own logistical problems, especially during a pandemic.
Despite the constraints of having a limited supply chain available on the island, Al and the Jersey Field Squadron ensured there was no delay in getting the site up and running in time for the beginning of the national vaccine rollout.
"We managed to turn the vaccination centre around very quickly for the community, which is a credit to the hard work of everyone who was involved," Al said.
"It was a fantastic opportunity for all the squadron to show what they're capable of, and they did an excellent job building the centre from scratch."
Coming from all walks of life – including those who have left the regular Army – Reservists give up their free time to train and serve alongside their full-time counterparts in the regular Armed Forces.
From taking part in operational deployments, to being called up to help deal with emergency situations in the UK, Reservists can easily find themselves in a diverse range of roles.
Reservists continue to develop transferrable skills which are beneficial to their employers, including first aid and health and safety training, and the continued development of leadership and management skills.
With nearly two decades of service in the regular Army under his belt [read more here], Al finds his current role in the Army Reserves as fulfilling as ever.
"It's really rewarding, and I still enjoy putting on a uniform and working with a diverse and committed bunch of people," he said.
"Whether you're ex-regular Army like I am, or whether you've never had anything to do with the military, it's really fulfilling. You get out of it what you put in and I'm really grateful for the continued support of Norse Group."